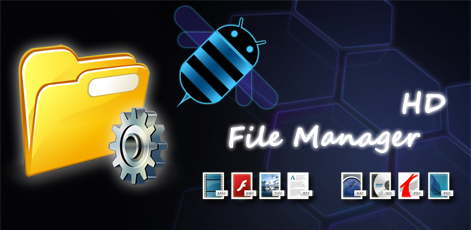 File Manager HD version 1.11.0 is released with following updates:
* Support streaming audio/video files from cloud storage
* Support Yandex Disk and Ubuntu One
* 90+ new elegant file icons(170+ in total)
* Support file deletion during SD card analysis
* Show folder size for Box and SkyDrive
* Support Box v2 API and Google Drive API
* Remove SMB folder items count to enhance performance
* SD card analysis progress can be cancelled
* Add Indonesian, Portuguese and Slovenian translations
* Fix a root explorer problem on CyanogenMod 10.2
If you have any comment related to File Manager HD, please directly email to: support@rhmsoft.com.
==================================
Change History:
Version 1.10.0:
* Support SugarSync.
* Support FTP, FTPS and SFTP.
* Support streaming media from FTP, FTPS and SFTP.
* Add user manual, access from "Action Bar->Help".
Version 1.9.0:
* Support cloud storage including Dropbox, Box, Google Drive and SkyDrive.
* Support multiple tabs.
* Optimize action bar items for different size of tablets.
* Performance and stability enhancements.
Version 1.8.0:
* Support to browse contents of zip files directly.
* Keep last modified time for pasted files.
* Keep parent file position when press up button.
* Solve streaming problem for large video files(>2GB) from LAN.
Version 1.7.0:
* Keep CPU awake during file copy/zip/upzip, screen still can sleep to save battery.
* Retain file list view position after file delete/rename/create/paste…
* Change "Storage" shortcut linkage from internal storage to external SD card.
* Support file permission modification under root mode. Not available for SD card files.
* Support view file MD5 sum. Long click on file, from file details dialog, there is new MD5 description.
* More file type default linkage support such as mind map files.
Version 1.6.0:
* Support RAR decompression.
* New built-in image gallery.
* Support apk and more file types sharing by Bluetooth.
* Support multiple files share, click share button on multi-selection toolbar.
Version 1.5.0:
* Support file shortcut creation on home screen.
* Support playing stream media directly from LAN/SMB without download.
Version 1.4.0:
* Support root explorer for rooted devices according to users' request. Enable root mode in settings.
* Root explorer is a beta feature that have not been tested on all devices, please email support@rhmsoft.com any problem during your usage.
Version 1.3.0:
* Support running in background when paste/move/compress/extract
* Add Italian translation
* Add accent search support when searching files, you can search "áéó" using "aeo"
* Fix upper case keyword bug when searching
* Improve stability of thumbnail preview
* Fix screen hang problem when application start up