Introduction
Getting Started
Donation
FAQ
---
Introduction
---
This application is your one-stop task manager. Monitor and kill task, speed up phone, and save battery.

Features:

1*1 widget to monitor memory usage, fast kill task or launch application when click
kill task to free memory
sort task by name
auto-kill task when screen turns off
context menu to switch, uninstall, ignore, autokill or search application
ignore preferred application when kill
bulk select and rich notification
Developer: Rhythm Software, 2010-2013
Download: You can download Task Manager from Google Play for free.
Contact: support@rhmsoft.com, please tell me any comment or any defect during using this application.

---
Getting Started
---
For the tasks related to Task Manager, see the following links:

Task Manager Widgetback to top

Task Manager contains a sweet widget to monitor memory usage, fast kill task or launch application when click widget. Please have a look at yellow box in following picture: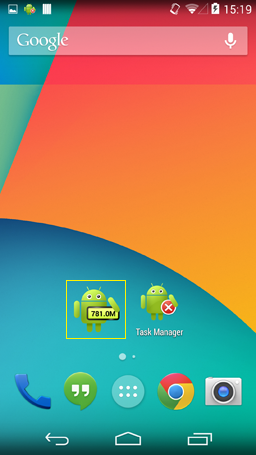 The widget contains the value of current available memory size. If you want this widget to display on your phone desktop, just follow the standard steps to add a new android widget:
Long press an empty area on your phone desktop where you want to add this widget to.
After about 2 seconds, a dialog will pop up for you to add new item.
In this dialog, please choose android widget -> task manager to add this widget to your desktop.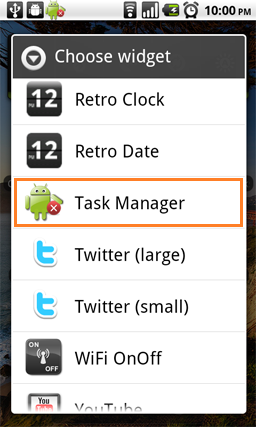 Note: If your device is running Android 3.0 above, the behavior of adding widgets may be different. Take Android 4.1.x as an example: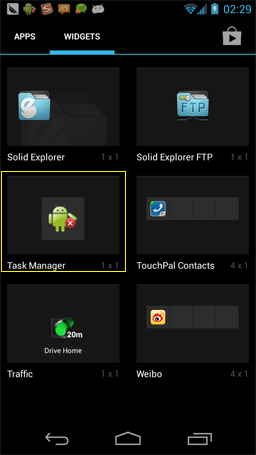 By default, this widget refresh every 10 seconds, but if you concern the battery usage, you can choose refresh interval in perference page as you wish from following values:
5 seconds.
10 seconds.
20 seconds.
30 seconds.
60 seconds.
5 minutes.
Never (Only update widget when you trigger it to kill applications)
When you click this widget on desktop, you can choose from two actions to trigger:
Kill all tasks excluded the tasks in ignore list.
Launch Task Manager application directly.
The default action when click widget is to kill all tasks to easily free memory by one click. When you click widget to kill tasks, it will popup a tip to notify you how many task and memory are freed. If you want to change to another action, you can modify it in Task Manager preference page.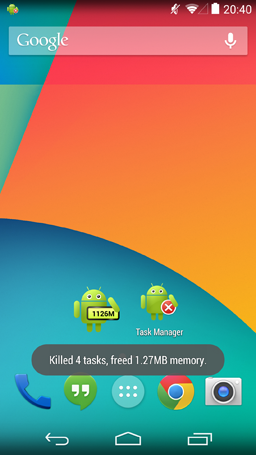 Tasks Overviewback to top
As following picture, in main screen of task manager, you will get the full list of current running tasks. And within the title bar, you will get current available memory status, as "Avail Mem". This memory status will refresh automatically when task list changes. Also you can click "Refresh" button to manually refresh the available memory status and running applications list.
You can launch context menu by clicking settings icon as following picture: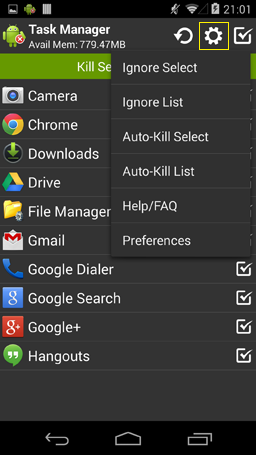 By default, system tasks are hidden because killing them may lead your android device to abnormal status. Kill system task may cause device hang temporarily as they try to restart. For junior users, we do not recommend you to enable this feature. If you are familiar with responsibility of system tasks, you can enable it in preference page:

After enable system tasks function, system tasks will be shown up in task list in cyan color: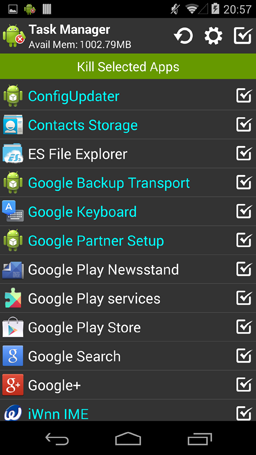 By default, foreground tasks and services are hidden also, in order not to break your important work. You can enable it in preference page:

After enable foreground tasks and services, they will be shown up in task list in green color: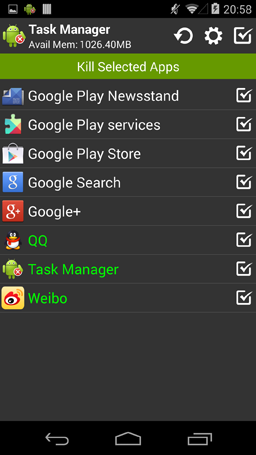 Kill Taskback to top
You can kill task freely which included in task list. There are two ways to kill them.

For single kill, you can click one task item, then in the context menu, you can choose "kill" item to end a task.
For multiple kill, you can choose multiple task items each time. Just single click checkbox behind each task to select/unselect it. Or you can click the "Select/Deselect" button to select/unselect all. After selected tasks, you can press "Kill Select Apps" button in main screen to kill selected tasks.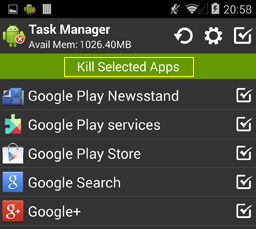 Ignore Taskback to top
Sometimes you want to hide application from task list to ignore killing them:
if the application is your preferred application.
if killing the application will cause usage or system error.
if the application need running in backgroud all the time.
Then you can add the application to ignore list. The tasks included in ignore list will not be displayed in task list.
You can remove task from ignore list in ignore list dialog. You can click "Ignore List" button in option menu to invoke this dialog.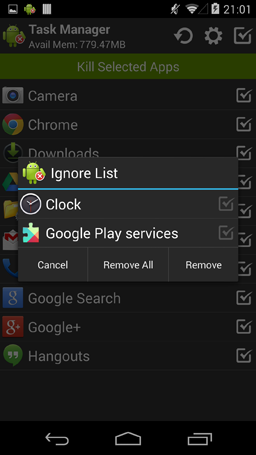 Note:
When you click task manager widget to kill all tasks, ignore list also works.
By default, task manager will add itself to ignore list to avoid kill itself. You can remove it from ignore list if you want.
By default, alarm clock will add to ignore list in order not to miss important appointments. This feature is added for many customers' request. You can remove it from ignore list if you want.
Auto-Kill Taskback to top
Task Manager support kill tasks when your screen turns off. Task Manager contains an auto-kill list, every task inluded in this list, will be killed automatically when screen turns off. This feature will automatically free your memory and speed up your phone without any manual actions, keep your system always clean. You can enable or disable this feature in preference page.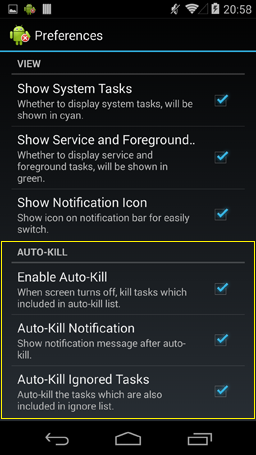 Also you can config if you want to have a notification message after each auto-kill like following picture: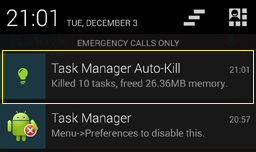 If you click the auto-kill notification message, it will popup a dialog to show the auto-kill tasks summary, including how many memory is freed, how many tasks are killed, and what are they: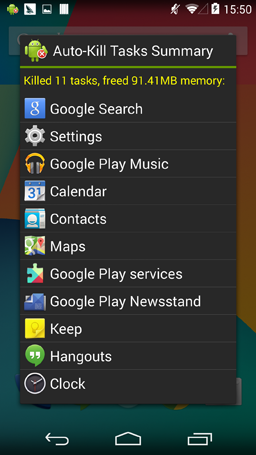 Context Menuback to top
Items when click task item:
Kill: kill current task.
Switch To: switch to current task if it is running, or start a new one. this item may disappear on some system task when the task has no user interface.
Ignore: add this task to ignore list. please refer to ignore instruction for further info.
Enable/Disable Auto-Kill: enable or disable auto-kill function for this item. please refer to auto-kill instruction for further info.
Uninstall: uninstall this application from your android phone. this item may disappear for system task because they are not allowed to uninstall.
Force Stop/Details: for tasks that always restart, press this menu item, goto application info screen, click "Force stop" button to forbid it restarting again.
Search In Google Play: search the application in Google Play to retreive more information about this application, such as introduction, rating, etc.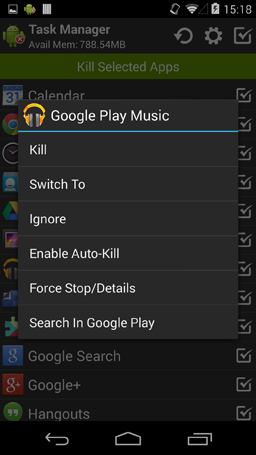 Preference Pageback to top
In preference page, you can specify following items that have not been mentioned:
You can specify default behavior when you click or long click task item within task list. You can choose one from 4 behaviors: Kill Task, Popup Menu, Select/Unselect and Switch To. By default, click task item will invoke "Kill Task" behavior and long click task item will invoke "Popup Menu" behavior. You can modify to your desired behavior.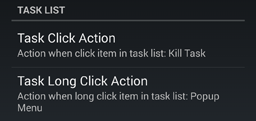 If you want a notification icon on notification bar.

If you want to show notification icon and start auto-kill feature if enabled after reboot. If you do not enable this feature, the notification icon and auto-kill feature will be enabled when you launch task manager.

Have a look at current application version, easy way to rate this application and find more application developed by us.

---
Donation
back to top
---
If you like this application, please donate to support our work! You will get ad-free version after donation! Go to perferences page, donate section to donate this application: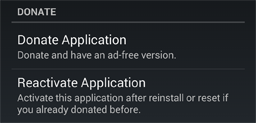 You can click "Donate Application" menu item to start the donation process. You need to download donation module to finish the donation. You can uninstall this module after donation if you want. The donation module contains the Google official in-app billing support. After you install the donation module and click "Donate Application" menu item, the donation dialog will popup. Click "Donate" button to finish the donation process using Google in-app billing.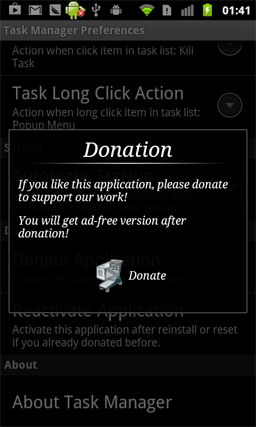 After the donation, the ad-bar will be removed automatically. Your donation record is binded to your Google account, it means for all your devices using the same google account, you can donate once and get ad-free version on all devices. For other devices, you can click "Reactivate Application" menu item, it will check your donation record in Google Play database for your account and then enable ad-free version if donation record found.
---
FAQ
back to top
---
Question: Why can't I kill task manager itself?
Answer: By default, Task Manager add itself into ignore list to avoid user killing it by mistake. Kill Task Manager itself will cause widget stop refreshing.
Question: Why can't some task be killed?
Answer: You did kill the task but some task may restart after killed when necessary. For these apps, please upgrade to version 1.6.6 or above, it contains a force stop menu item for you to go to "Application Info" screen, then press "force stop" button to forbid them restarting anymore.
Question: Why can't my widget refresh?
Answer: Task manager application might be killed by other applications. You can single click on this widget to activate the refresh function again. Widget may stop working after some upgrade, you can delete the widget and add it again to resolve the problem. If you set widget interval to "Never", the widget only update when you trigger it to kill applications.
Question: I am so concern about the battery which used for widget refresh.
Answer: You can specify the refresh interval in perference page from 5 seconds to 5 minutes. Even you can disable refresh when you choose interval to "Never", then the widget only update when you trigger it to kill applications.
Question: How can I know which tasks are auto-killed by task manager?
Answer: You can enable auto-kill notification in perference page. Then after each auto-kill, there will be a light bulb in the notification bar. You can click the notification message, then it will popup a summary dialog for you to review the autokill result.
Question: It seems that Task Manager does not kill some tasks on Froyo(android 2.2)+?
Answer: Froyo has changed its policy for killing applications. Task Manager only kill all background processes on Froyo. This is the same as the android kernel killing processes to reclaim memory. Android will take care of restarting these processes in the future as needed in order not to break other applications by removing their alarms or stopping their services.
So currently you can also rely on Task Manager to reclaim memory on Froyo without break your critical processes.
Question: I can not find my problem in this FAQ list?
Answer: Please email me your problem together with your phone type and android version: support@rhmsoft.com