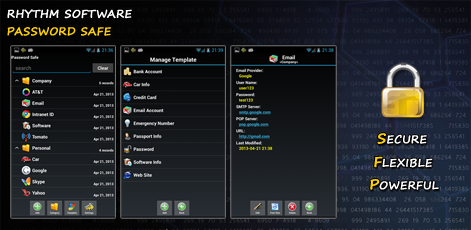 Password Safe version 1.9.0 is released with following updates:
* Encryption algorithm upgraded to 256bit AES.
* Refined UI with Holo theme support on Android 3.0+.
* Hide Password Safe from recent apps list to ensure security.
* Add 10 new elegant icons for password records.
* Support multi-line password field.
* Many more usability improvements.
If you have any comment related to Password Safe, please directly email to: support@rhmsoft.com.

=================================
Change History:
Version 1.8.4:
* Solve encoding problem when backup/restore.
* Alphabetical sorting for category and password records.
* Enhanced layout when viewing and editing passwords.
Version 1.8.3:
* Fix back up file can not be found problem.
* Fix master password can not be changed problem.
Version 1.8.0:
* Support high resolution devices.
Version 1.7.2:
* Fix android 2.3 compatible problem.
* Italian language translate, thanks Michael Lepori!
Version 1.7.1:
* Fix unknown error – 18 during installation.
Version 1.7.0:
* Fix decryption bug on Gingerbread(Android 2.3)
* Support move application to SD card(Android 2.2 and above)
* Czech language translate, thanks Jan P?akovi?!
Version 1.6.1:
* Fix template field types problem, now can choose from 4 types.
Version 1.6.0:
* Multiple delete passwords;
* Support adjust font size when view password;
* Support template field reorder;
* Support password field reorder;
* Support two more field type: phone and number;
* Backup file will keep password fields order, category and template;
* Online Help and FAQ system.
Version 1.5.1:
* Minor fix due to customer feedback:
* Modify hint display when view password.
* Modify search function to support middle part of a word or sentence.
Version 1.5.0:
* Add auto-lock feature. Your login is required after you leave application running background for more than 20 seconds.
Version 1.4.1:
* Keep icon info when export and backup.
Version 1.4.0:
* Add backup to SD card and restore function.
* Add more import options when conflict happens.
* Support multiline editing and viewing for password record entry.
Version 1.3.2:
* Fix data confusion and missing defect when edit password record.
Version 1.3.1:
* Fix defects when parse phone number and date on view password page.
Version 1.3.0:
* Add quick access support when view password record.
* Click phone number to dial or send sms.
* Click email address to send mail.
* Click web site to open link in browser.
* Click date to add event to calendar.