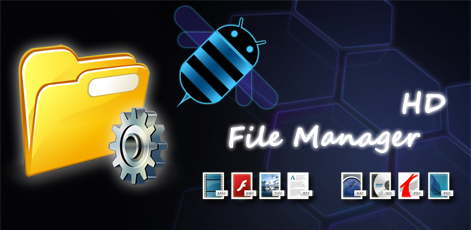 Best tablet optimized file manager on Honeycomb! High definition(1280*800) with fresh UI design and user friendly functions! Special optimization for tablets and certified on Honeycomb! Enjoy it!
Includes:
* Based on Android 3.0+ new feature and theme
* High definition(1280*800) support
* 3 sets of commercial icons for 80+ different file types, toolbar and menu items
* Support 28 languages
* Cut, copy, paste and cancellable progress dialog
* List and grid view for file browsing
* Compress and decompress support
* Search and share files
* Multiple selection and sorting support
* Thumbnail for photo, pictures and apk files
* Support both local and remote(LAN/SMB) file system
* Play streaming media from LAN without download
* Support cloud storage including Dropbox, Box, Google Drive and SkyDrive.
* Support file shortcut on Home screen for easily access
* Root Explorer for rooted devices
* Built-in text editor, image gallery and swf player
* Fully tested on Xoom and Nexus 7
Supported Languages: English, Arabic, Czech, German, Greek, Spanish, French, Hungarian, Italian, Japanese, Korean, Dutch, Polish, Portuguese, Russian, Slovak, Slovenian, Swedish, Thai, Turkish, Simplified Chinese, Traditional Chinese, Bahasa Indonesia, Hebrew, Finnish, Hindi, Croatian and Serbian
If you have any comment related to File Manager HD, please directly email to: support@rhmsoft.com.