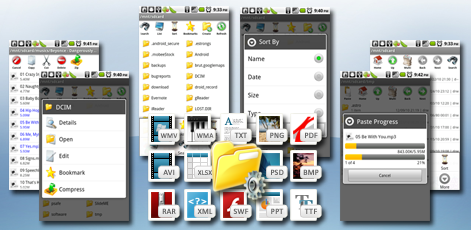 Full featured file manager on Android, fresh UI design and user friendly functions!
Includes:
* 3 sets of commercial icons for 80+ different file types, toolbar and menu items
* Multiple resolution support
* Support 28 languages
* Cut, copy, paste and cancellable progress dialog
* List and grid view for file browsing
* Compress and decompress support
* Search and share files
* Multiple selection and sorting support
* Support both local and remote(LAN/SMB) file systems
* Support FTP, FTPS, SFTP and WebDAV
* Play streaming media from LAN/FTP/WebDAV without download
* Support cloud storage including Dropbox, Box, Google Drive, SkyDrive, SugarSync, Yandex Disk and Ubuntu One
* Support FTP file sharing, access device files freely without data cable
* Thumbnail for photo, video and apk files
* Support file shortcut on Home screen for easily access
* Root Explorer for rooted devices
* Built-in text editor, image gallery and swf player
Supported Languages: English, Arabic, Czech, German, Greek, Spanish, French, Hungarian, Italian, Japanese, Korean, Dutch, Polish, Portuguese, Russian, Slovak, Slovenian, Swedish, Thai, Turkish, Simplified Chinese, Traditional Chinese, Bahasa Indonesia, Hebrew, Finnish, Hindi, Croatian and Serbian
Online user manual for File Manager is available here!
File Manager is optimized for phone devices, for tablets with android 3.0+, please refer to File Manager HD!
If you have any comment related to File Manager, please directly email to: support@rhmsoft.com.