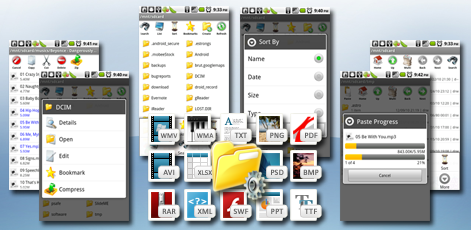 File Manager version 1.16.0 is released with following updates:
* Support Yandex Disk and Ubuntu One
* Support file deletion during SD card analysis
* Show folder size for Box and SkyDrive
* Support Box v2 API
* Remove SMB folder items count to enhance performance
* SD card analysis progress can be cancelled
* Add Indonesian and Slovenian translations
* Update Portuguese Brazil and Czech translations.
* Fix a root explorer problem on some ROM such as CyanogenMod 10.2
* Fix force close when click up button in Box
If you have any comment related to File Manager, please directly email to: support@rhmsoft.com.
==================================
Change History:
Version 1.15.0:
* Support FTP, FTPS and SFTP.
* Support streaming media from FTP, FTPS and SFTP.
* Support encrypted ZIP/RAR files.
Version 1.14.0:
* Support cloud storage including Dropbox, Box, Google Drive and SkyDrive. In network page, click "create" button to add cloud connections. Transparently access and update cloud files as same as local files.
* Support multiple tabs, click the icon in right-top corner of title bar to access, create new and close existing tabs.
* Some performance and stability enhancements.
Version 1.13.0:
* Support direct browsing on zip files. You can browse zip files as same as normal folders, also you can simply copy part of zip entries and then paste(extract) them to whatever folder you want.
* Add Slovak language support.
* Minor bug fixes.
Version 1.12.0:
* Keep CPU awake during file copy/zip/upzip, screen still can sleep to save battery.
* Retain file list view position after file delete/rename/create/paste…
* Support file permission modification under root mode. Not available for SD card files.
* Support view file MD5 sum. Long click on file, from file details dialog, there is new MD5 description.
* More file type default linkage support such as mind map files.
Version 1.11.0:
* Support RAR decompression.
Version 1.10.0:
* New built-in image gallery.
* Support apk and more file types sharing by Bluetooth.
* Support multiple files share, click share button on multi-selection toolbar.
Version 1.9.0:
* Support file shortcut creation on home screen.
* Support playing stream media directly from LAN/SMB without download.
Version 1.8.0:
* Support root explorer for rooted devices according to users' request. Enable root mode in settings.
* Root explorer is a beta feature that have not been tested on all devices, please email support@rhmsoft.com any problem during your usage.
Version 1.7.0:
* Support running in background when paste/move/compress/extract
* Add Italian translation
* Add accent search support when searching files, you can search "áéó" using "aeo"
* Fix upper case keyword bug when searching
* Improve stability of thumbnail preview